Are your looking to capture and retain more customers? Businesses that create customers loyalty programs with Movylo will not only capture more leads than ever before, but they'll also build a loyal customer base that grows day after day.
In the modern marketing world, there are a few key ways that customers will find your business, such as through search, social media, or a referral to your website. From here, it is absolutely crucial for your business to convert these leads into paying customers. On this topic read the post on How Movylo helps you close sales through Facebook likes
When it comes to building rewards programs that helps create an expanding customer list for your business, Movylo has a lot to offer. Let's take a look at exactly how your business can expand its monthly sales through an intelligent marketing automation.
How to create customers loyalty programs Specifically for SMBs
As a small business owner or manager, you likely have little time to devote to the marketing solutions that could catapult your business's sales. Movylo was designed with this exact problem in mind.
First, Movylo creates a customer list after capturing leads from multiple sources, including social media, your website, search, and more. Through promotions, offers, discounts, and special deals, you'll be able to implement a loyalty application that creates an always-expanding customer list. Movylo can also help incorporate the loyalty program with in-store material as well.
If you run a restaurant, please check also the article Restaurant loyalty programs: how to increase sales through app-based rewards.
Turning a Customer List into Sales via Automation
The problem with many CRM solutions today is that they leave you with no viable ways to convert your customer list into real sales. With Movylo, capturing customers is only the beginning.
Movylo ramps up your content output with automated social postings, SMS marketing, and more. Statistics show the best way to convert a lead into a paying customer is with some kind of a rewards program. In fact, it's estimated that 84% of customers are willing to leave a product review in exchange for a reward.
The Movylo AutoPilot solution will help convert paying customers with rewards such as welcome bonuses, write a review, and birthday wishes. After reviewing the promotion or discount, your converted customers will be able to checkout immediately, using PayPal, credit card, or cash at the point of sale.
To create customers loyalty programs that are easy to access, many small businesses also benefit from utilizing the Movylo App. From here, you'll be able to reward and encourage new purchases directly through the programs you've created.
A Breakdown of Movylo AutoPilot
Movylo's main goal is to help optimize your commercial operations. With more efficient marketing operations, your business will be able to better meet the specific needs of your customers. Over time, continuous outreach with your growing customer list will help ensure loyalty and ultimately increase sales. Movylo accomplishes this with a 3-tiered, gamified approach.
1. Customer List for your loyalty program
Although fairly straightforward, this first step is crucial. Movylo AutoPilot makes it easy to track your customer list through email, SMS, App, and all other mediums. You'll be able to analyze total customers gained, reviews, feedback, and more. The best part is that you'll be able to watch your total customer list grow day after day, in real time.
2. Customers engagement to create your loyalty program
This middle tier takes care of the critical steps that are required to turn a customer list into sales. With Movylo, customer engagement is all-encompassing. The solution helps automate all aspects of customer outreach, from direct messages to social clicks and more. SMS, WhatsApp, Facebook and Email are just a few of the outreach mediums that Movylo will use to engage with your growing audience and lock in customer loyalty.
3. Sales
As it is the case with your customer list and engagement, you'll also be able to track your total sales in real time as well. Movylo helps break-down the entirety of your sales – from in-store sales to downloaded coupons and everything in between. Through Movylo's easy to use dashboard, it's easy to spot which marketing campaigns are most effective, and which ones may need a little adjustment.
A Movylo customer loyalty program | Wade's Coffee case study
To really get a sense of how Movylo can help create an effective and efficient customer loyalty program for your business, it may be easiest to explain it with a real success story.
Wade's Café in Colorado Springs, Colorado, has been an established restaurant in the local community for decades. They've been serving up delicious, homemade meals since 1953.
For years, they had prioritized printed advertising to increase traffic to their business. In the hopes of incorporating an effective online rewards program in their marketing, they turned to Movylo.
After connecting their website and various social media accounts with Movylo's automated marketing solution, they were able to significantly expand their customer list. It didn't take long for Wade's Café to capture over 2000 customers from their website alone!
Movylo then began the automated engagement process with Wade's new customers. Soon enough, the rewards and loyalty programs converted these leads to paying customers.
Better yet, Wade's Café was able to track their statistics and overall sales. The sales accumulated by Movylo's AutoPilot solution grew month after month. In less than a year, monthly sales gained from Movylo more than doubled.
If you want to do that too don't miss the post Restaurant marketing. How to drive sales and customer.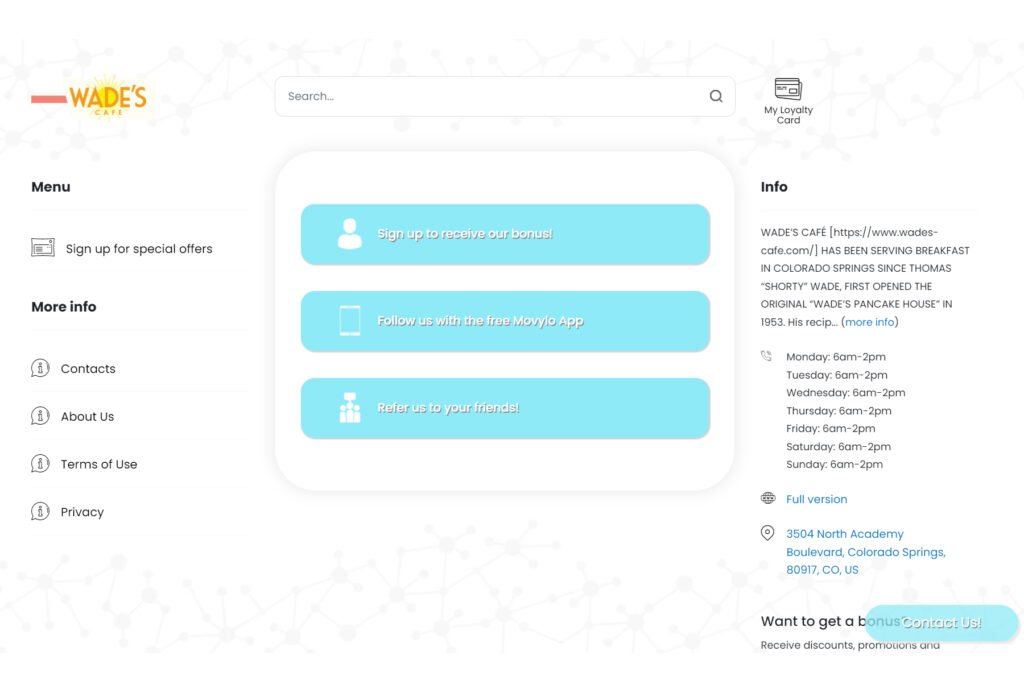 Ready to Expand Your Customer List and Boost Sales?
Small business owners and managers have to wear a lot of hats. From micro-managing employees to accounting and other important business elements, there is no shortage of responsibilities. This dilemma can leave little time for the marketing strategies that will help grow the business.
CRMs and other marketing solutions are great for managing customer lists. The problem is that they don't have a lot to offer when it comes to growing and converting those customer lists. Movylo has become the go to solution for small businesses trying to grow and actually convert their customer lists into real sales.
Movylo offers a solution that does all the leg work for you. This includes building a customer list, engaging with customers, and converting those customers into trackable sales. Are you ready to grow your in-store and online sales? 
Feel free to reach out for more information on what Movylo can do for you.