Movylo is a platform that offers many features to help its users better manage their business. Among the many options available, one of the most useful is certainly the booking form. Thanks to this feature, business owners can receive reservations quickly and easily, better manage their agenda and offer an increasingly professional service to their customers. The Movylo booking module is highly customizable, allowing you to choose your own opening hours and create a list of available services to book. In this way, customers can book the desired services according to their needs, choosing the day and time they prefer.
The importance of having an online booking form
Having an online booking form is of fundamental importance for many businesses as it allows you to simplify the management of bookings and offer a more efficient service to your customers. Thanks to an online booking system, customers can access the business platform and book the desired services at any time, even outside the business opening hours. Furthermore, this system allows you to avoid any errors in the management of reservations, such as overlaps or double reservations, guaranteeing a more professional and reliable service. At the same time, having an online reservations system saves business owners valuable time managing reservations by avoiding long waits on the phone or the need to respond to multiple emails or text messages. Finally, an online booking model can be easily integrated with other business management tools, such as online payment or sending automatic notifications, allowing you to further improve the service offered to customers. In summary, having an online booking system can make the difference for the growth and success of a business.
How to activate the booking module on Movylo
From the menu at the top, going from preferences, you will find the "Booking module" option.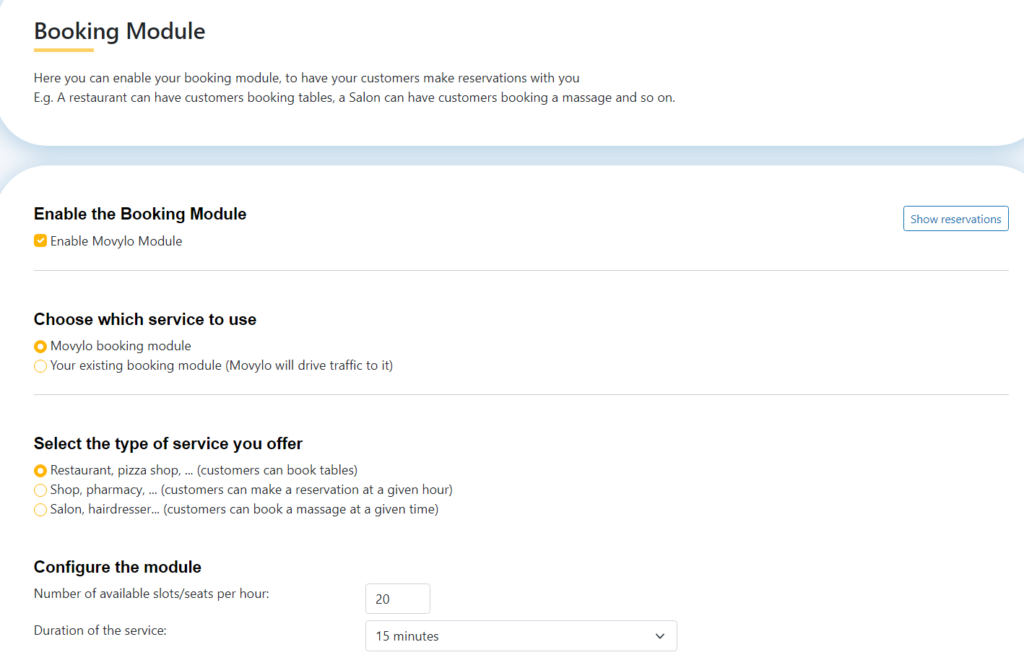 At this point you can decide whether to use Movylo as a booking model or if you already have a booking service you can easily connect it

By entering the URL of your booking service.
Now select the type of your service to customize the booking model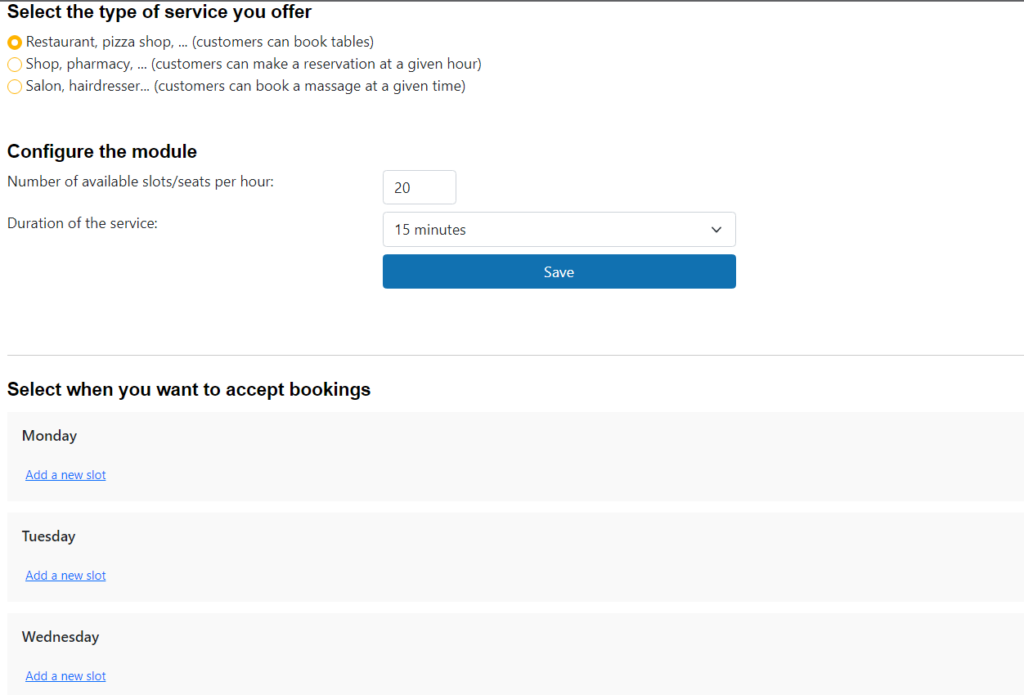 Here you can configure the booking model to make it consistent with your service.


Conclusion
Movylo's reservations module is able to simplify the life of business owners, ensuring complete control over the management of reservations. Customers will be able to access the Movylo platform and book the services they want, viewing the availability of the business in real time. Furthermore, thanks to the possibility of setting up automatic notifications, both owners and customers will receive an alert when a reservation is made or cancelled. This saves precious time in managing reservations and avoids any errors or inconveniences. The Movylo booking module also offers the possibility of integrating the booking with an online payment, allowing you to guarantee an even more efficient and professional service. Thanks to these features, Movylo confirms itself as a cutting-edge platform, able to meet the needs of any type of commercial activity, from small companies to large chain stores.